CLIMBING FOR FUN. CLIMBING FOR HEALTH. CLIMBING FOR A CAUSE.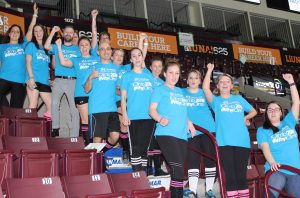 Family Services Windsor-Essex staff climbed over 1,000 steps on Wednesday, February 28, 2018 at the WFCU Centre, joining the United Way's iclimb2018 for an exciting challenge filled with fun activities that promoted healthy, active living.  Through this event, FSWE staff helped raise funds and awareness to support Mental Health and Counselling Programs in our local community.
Last year, 1,699 individuals accessed United Way funded counselling services across Windsor & Essex County including  counselling provided by Family Services Windsor-Essex. Community support for these initiatives has helped to virtually eliminate a 12-week community wait time for local counselling services through the creation of walk-in clinics and group counselling programs that help people throughout Windsor and Essex County.
In fact, 20 times more people are getting the support they need when they need it through programs like FSWE's Walk-in and Group Counselling Services.  These programs help support and prevent people from falling back into crisis by providing a wider network of support.
Thanks to everyone who took part in and supported this fun event.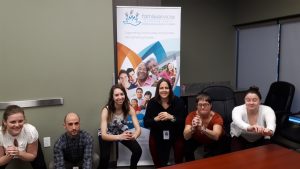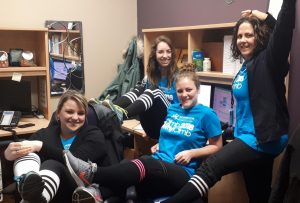 It took a lot of prep work, but the team was up to the challenge,
SOCKIN' it to the iclimb!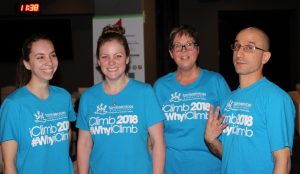 Congrats to the Family Services Windsor-Essex 2018 iclimb Team:
Nicole, Erin, Carol and Chris who walked 2,000 steps, and the entire team
who smashed their fundraising goal by reaching a whopping $2,706!
Special mention to the 2 top FSWE fundraisers:
Sara Brudz who raised $580 and Tara Ottogalli who raised $575!
GO TEAM FSWE!!!